Grab Rails for Mobility Problems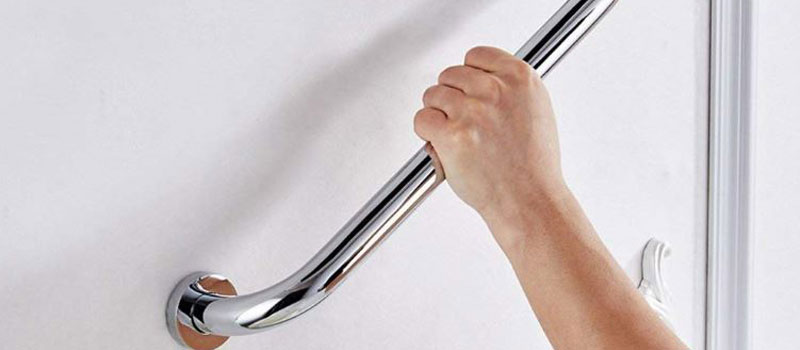 Grab rails when suitably positioned inside or outside the home can be used for support and movement if you have mobility problems. Grab rails can be used for support in the bathroom, toilet and for negotiating steps.
Common Uses:
* Support at entrance steps.
* Helping to stand and sit – toilet/chair.
* Help using the Bath or Shower.
* An aid to balance when dressing or standing.
Community Occupational Therapists based at Social Services (they do home assessments) or Hospital OT Departments (if you are coming out of hospital and need some help) can advise on where and how grab rails may be useful.
Grab rails are usually produced in several types of finish:
1. Chrome plated – tough but slippery with wet hands. They need to be earth bonded where Institute of Electrical Engineers wiring regulations apply (especially in bathrooms).
2. Epoxy resin coated/solid plastic/painted – choice of colours can be obtained and feel warmer than chrome. The epoxy coating on grab rails can lift off if the coating is damaged and moisture is allowed to attack the base metal of the grab rail. Painted rails will also suffer in time if the paint is damaged allowing moisture to start corrosion of the base metal.
Check that the rail is comfortable to hold and there is sufficient room between the rail and the wall to allow the person to secure a strong hand grip.
It is recommended that there should be a space of about 1 1/2″ to 2 1/2″ between the wall and the rail.
Ensure that the rail is comfortable to hold especially if the person has weak or painful hands. It is recommended that the rail should have a diameter of between 1″ to 1 3/4″.
Coloured rails that contrast with the wall colour are useful for people who have a visual impairment.
Grab rails should always be fitted if possible to solid walls and by a person competent in drilling and raw plugging. Special care is required where dry lining or plasterboard partitions are encountered. Corrosion of fixtures and fittings should be considered, especially when fitting grab rails outdoors.
See our selection of grab rails on the Focus on Disability website